Three Creative Ways to Engage Your Child with Aluminum Foil — Outside the Kitchen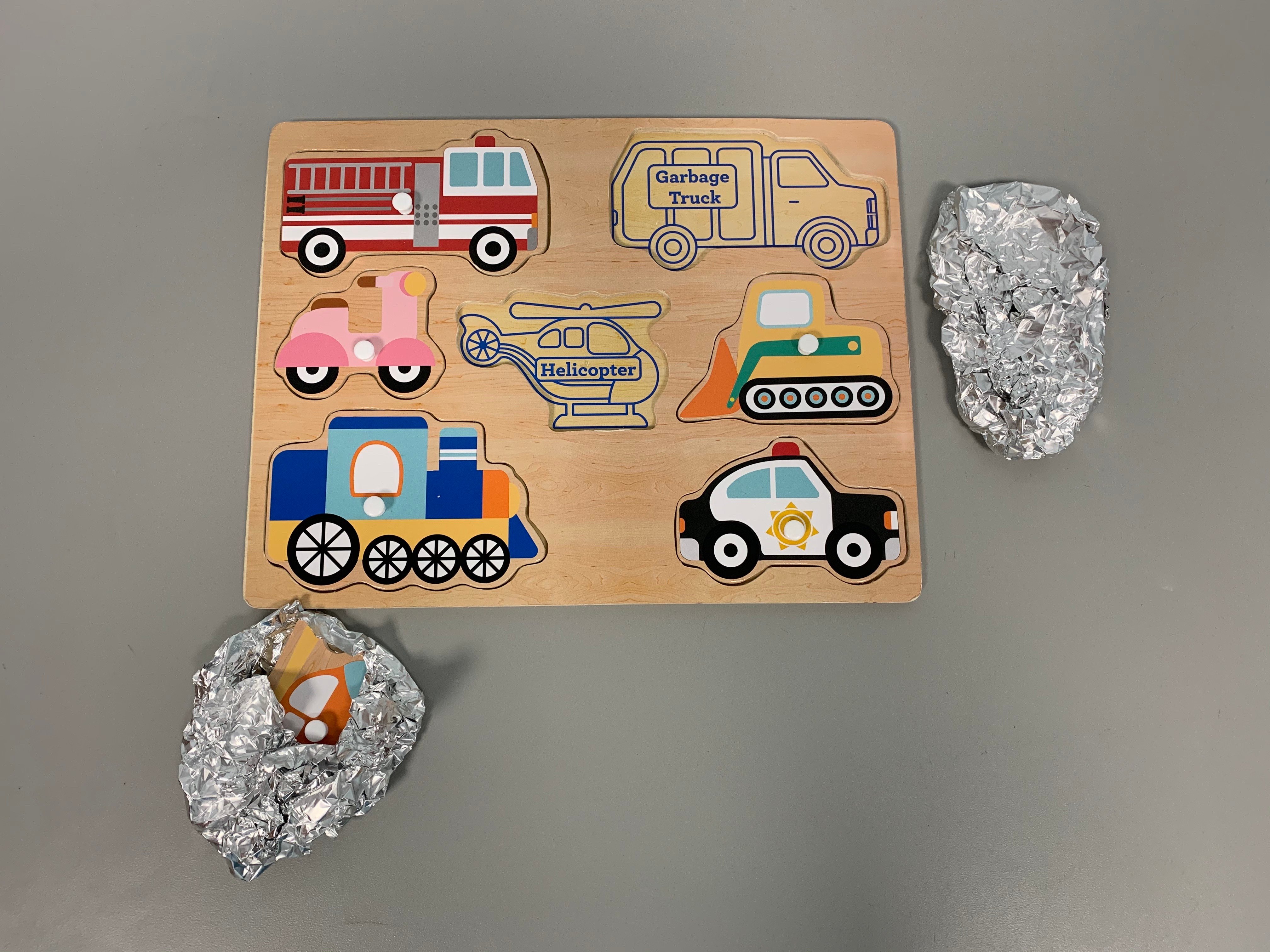 As occupational therapists, we are taught to analyze every task and creatively target a variety of skills with the simplest tools. Therefore, when planning (especially for virtual therapy sessions) and looking for some new creative ways to engage the children I treat, I turned to aluminum foil. Now, this simple household tool is a staple in my therapy toolbox.
How to Strengthen Your Child's Motor Skills with Aluminum Foil
1. Unwrap treasures
Make any toy a new game by wrapping it up in aluminum foil. The tighter you wrap, the more of a challenge. Then, ask your child to unwrap the toys to discover what is inside.
Not only does this add a new spin on a familiar toy, but it also challenges your child's bimanual skills, using their two hands together, and fine motor skills as they use their fingers to peel back the foil to reveal what is inside.
My go-to toys to wrap up include: puzzle pieces, LEGO blocks, shapes for a shape sorter, character figurines, and board game pieces. The possibilities are endless, so do not be afraid to get creative!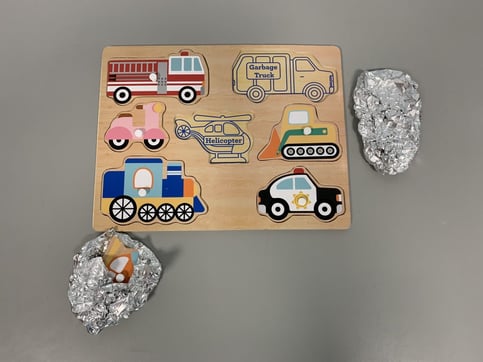 2. Play a guessing game
Gather different sized items around your home and wrap them in aluminum foil and ask your child to name the shape. Then, play a guessing game: "What do you think is wrapped inside?" Add a social interaction component by playing this in a group, taking turns to see who can guess what is wrapped inside. Through this fun game, you will be strengthening your child's visual perceptual skills in addition to fine motor skills! For an added challenge, have your child close their eyes and guess the shape or item first by only using their tactile sense (touch), feeling the curves or straight edges and other spatial concepts through the foil.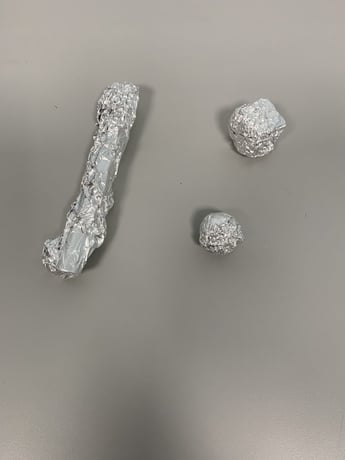 3. Create a night sky
Aluminum foil can also be used to add extra shine to your child's art work, or as the tool/canvas they use to create their masterpieces!
Does your child love outer space? Have your child rip pieces of a larger aluminum foil sheet, then either scrunch them between the pads of their fingers, or keep them flat squares. Next, glue the pieces onto construction paper (I typically use blue or black), putting many pieces together to create a moon. Or, spread them across the paper to create sparkly and shiny stars in the night sky.
4. Paint!
Need a paint brush? Have your child roll or fold a ball of aluminum foil. (Note: For slightly older children with more dexterity, provide smaller pieces of aluminum foil to roll for additionally challenging strength and coordination.) Now, have your child dip their foil ball(s) into paint and add a new texture component to the design!
Fun designs include: leaves on a tree, fur of an animal, surface of the moon, snow, or clouds in the sky using your new aluminum foil paint brush to add texture!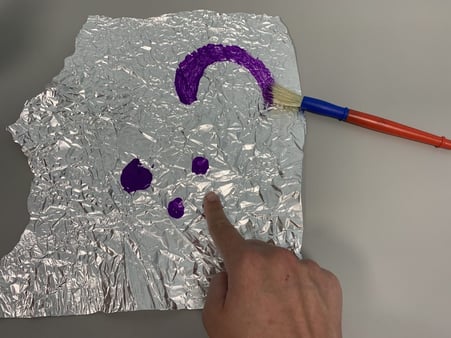 5. Use foil as construction paper
Did you run out of construction paper or materials for you child to paint on? Not to worry. Grab a sheet of aluminum foil from your kitchen. Now your child's art will have an extra special shine when paint is applied.
[*OT note: Placing this new-found canvas on an easel board or vertical surface is a great way to facilitate bimanual skills. As your child uses two hands together to stabilize the paper, this position activates the core for postural control and builds strength and endurance of your child's shoulder and elbow joints. This also aids visual attention and eye-hand coordination skills, as the task is closer to their visual field. It promotes wrist extension and hand stabilization necessary for developing proper pencil grasp and control of a writing utensil.]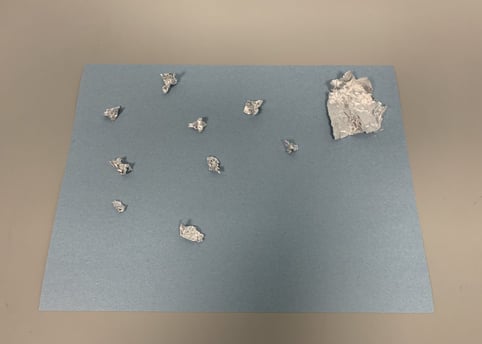 6. Use foil as a canvas
Are you using aluminum foil as a canvas but want to incorporate an additional sensory component? To add sensory components to foil painting, try finger painting. Either scrunch and unfold your sheet of aluminum foil for an additional texture component or keep it nice and flat; whichever you choose, finger painting is a fun way to engage your child in a sensory exploration opportunity, while also strengthening your child's dexterity and ability to isolate their fingers!
Now, if you're ever searching your home for a cost-effective way to engage you children in fun and functional tasks, look no further than that roll of aluminum foil in your kitchen cabinet!
Author
Laura Bianciella, MS OTR/L | Pediatric Occupational Therapist
Laura Bianciella is a pediatric occupational therapist who graduated from the University of Scranton's 5-year Master's program. She has had clinical experiences varying from outpatient adult rehabilitation, acute and long term skilled nursing care, and outpatient pediatric summer camp and clinic based program specialized for children with cerebral palsy. She has a true passion for helping others, especially children, as they learn, play, and grow living their lives to the fullest no matter what challenges they may face across all contexts and occupations.
Call Today
1-866-557-8669
Office Hours
Mon-Fri 8:30 am - 7:30 pm
Sat-Sun 8:30 am - 3:00 pm
Contact Form