Sunny Days Sunshine Center
Serving Children Who Live In or Near Lawton/Ft. Sill
and Southwest Oklahoma
A Center for Kids with Developmental Challenges and/or Rehabilitation Needs

ABA Therapy Services, Pediatric Occupational, Physical & Speech Therapy, Pediatric Counseling, & Social Skills Groups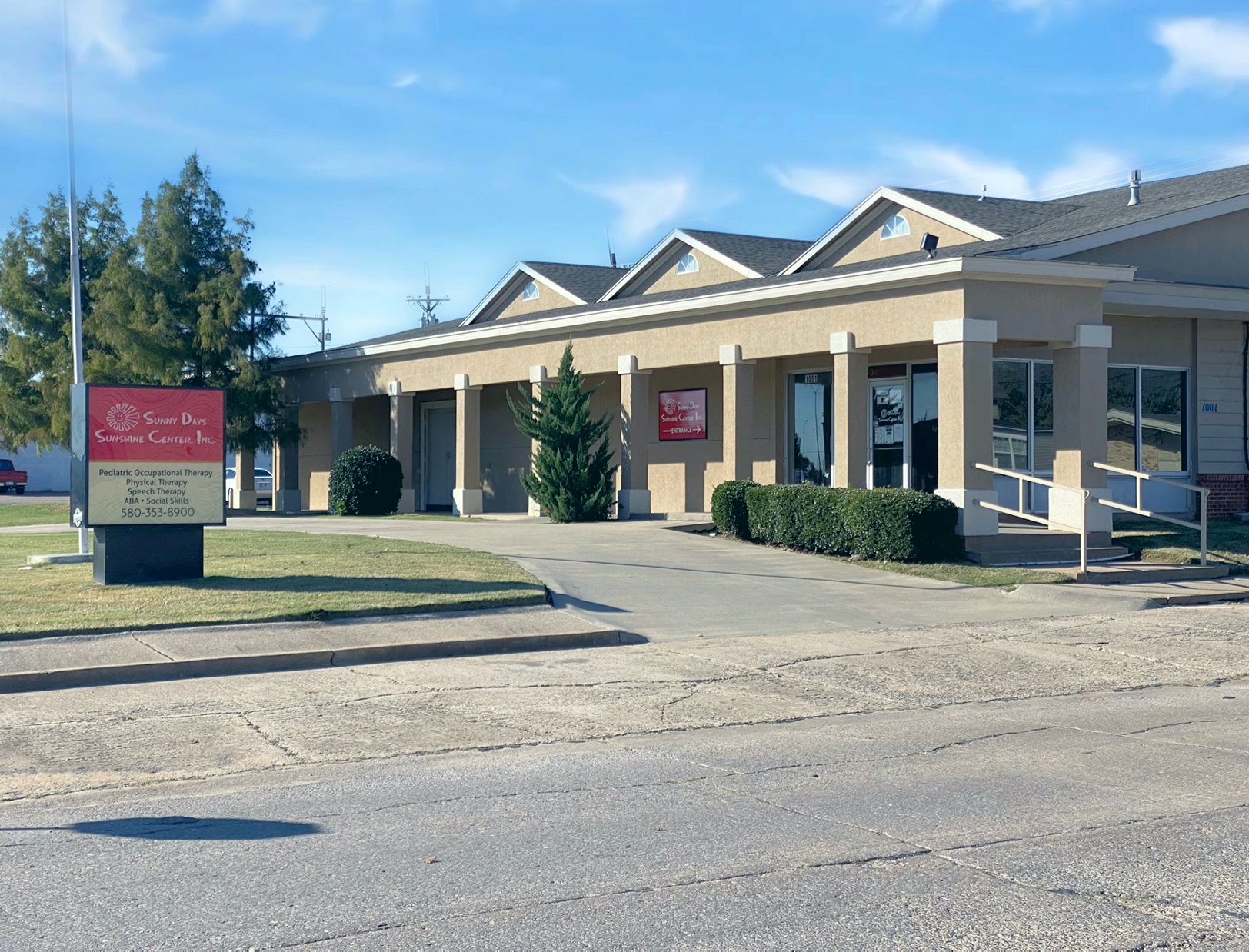 Our Sunshine Center® facility, (formerly Gore Therapy Center), is the premier pediatric therapy clinic in Southwest Oklahoma. We provide comprehensive speech, occupational, physical, and feeding therapy for children from birth through eighteen.
Gore Therapy Center was established in 2011 by Aileen Sadler, OTR/L, and Greta Worthington, MS, CCC-SLP. Both therapists had been working independently in private practice and recognized the need for more comprehensive pediatric therapy services with a focus on a team approach. Since the beginning, we have employed an interdisciplinary, team-oriented approach for working with children with a wide variety of goals and needs.
Our entire staff works diligently to provide each child a high-quality therapy experience. We are passionate about helping children develop to their full potential. If you have any questions as you explore this site, please contact us and we will help in any way we can!
1001 Southwest A Avenue
Lawton, Oklahoma 73501
Sunny Days Sunshine Center, (formerly Gore Therapy Center), works alongside families to provide child-centered pediatric therapy services in order to help all children develop to their full potential.
Learn more about our services in Oklahoma.

In compliance with Oklahoma HB1006, Transparency in Health Care Prices Act,
all prices are current as of November 1st, 2021.
Child Development Center:
Serves children up 18 years.
Accepts Most Private Medical Insurance.
Is open 7 days a week.


Our Staff Includes:
Occupational Therapists
Physical Therapists
Speech Pathologists
Behavioral Specialists
Special instructors