Fun and Educational Cooking Activities for Toddlers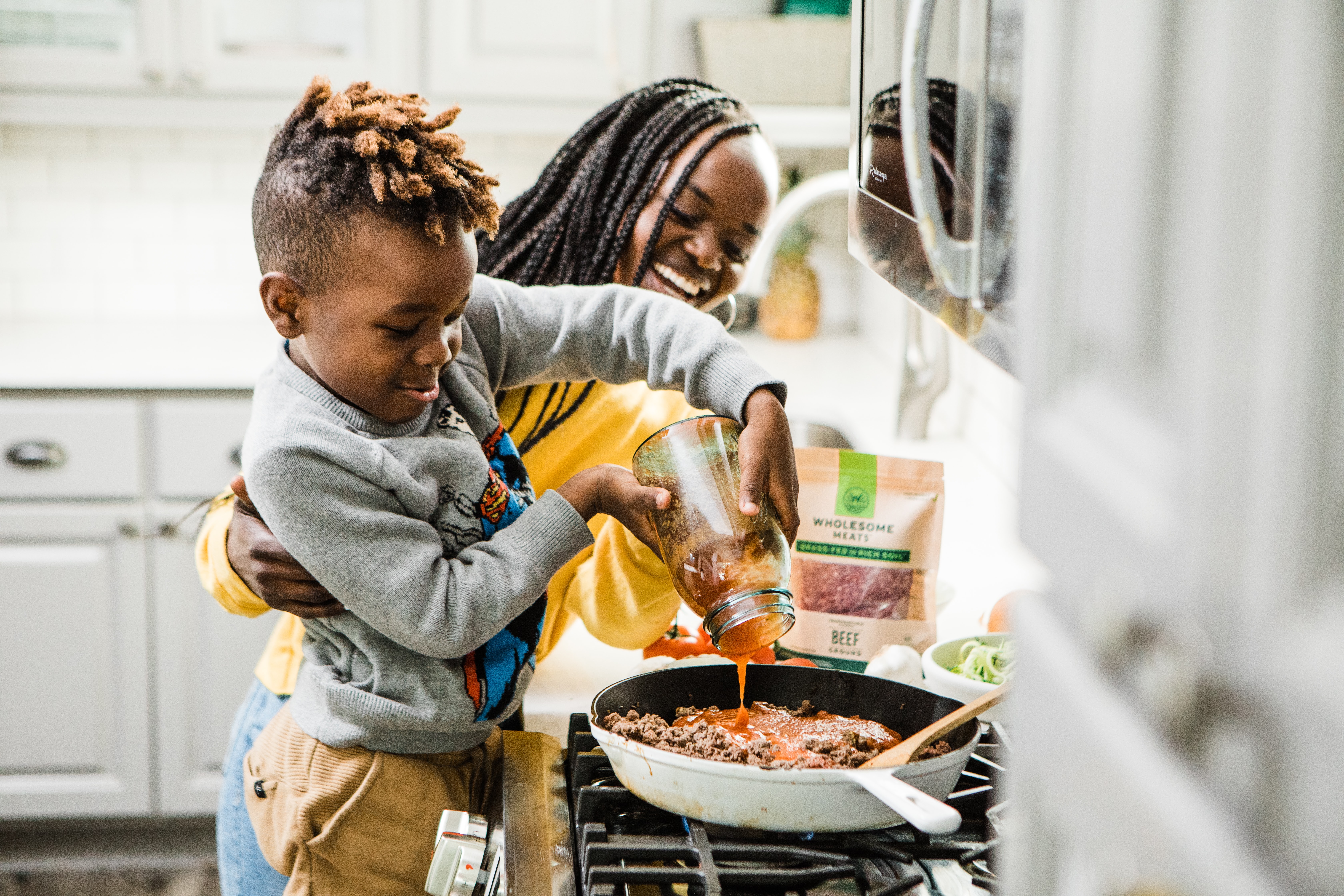 If you're looking for fun educational activities that your children can enjoy regardless of the weather, head to the kitchen! Better yet, utilize kitchen activities while you need to get things done around the house or are preparing a meal.
The Benefits of Cooking in Early Childhood
Kitchen activities can develop your child's social, motor, and educational development. Here's how:
Explore and develop the senses. By becoming acquainted with ingredients, children explore and develop their senses—color, smell, and taste. Let your toddler smell different spices, herbs, fruits, and vegetables. Use fruits and vegetables to point out shapes, textures, and colors and teach their names. Explain what the items are and what you are doing with them.


Develop motor skills. Having children help with simple kitchen tasks like scooping, pouring, and sorting helps them develop greater dexterity.


Preliminary math skills. Counting items such as beans, sprigs of herbs, or even spoons, strengthens a child's preliminary math skills.


Improve concentration. If you and your child take on a project (baking cookies, for instance) from start to finish, this provides an opportunity to focus on a task for a prolonged time period. This concentration practice can later be translated to other tasks like reading, homework, and chores.


Develop and expand your child's palate. Being in the kitchen and experiencing the cooking process helps develop a child's palate. This is particularly helpful for toddlers and preschoolers who are picky eaters. Encourage your child to taste ingredients you're using and provide ways to participate in making the meal. Being a part of the cooking process will inspire a greater interest in the food you're serving.


Develop vocabulary. The kitchen is a great place to work with your child on core and fringe vocabulary skills.


Learn teamwork. When you cook together, your child learns the important and gratifying role that teamwork plays in everyday life. She or he will experience first-hand what we accomplish when working as a team.
Easy Cooking Activities for Toddlers
Here are some simple, fun activities for toddlers to try as an introduction to helping in the kitchen:
Wash fruits and vegetables. What's more fun than playing with toys in the bath? Giving produce a bath! This is a fun, quick, and easy way to acquaint your child with helping in the kitchen.
Measure dry ingredients. Measuring dry ingredients is a fun and useful activity for toddlers. Start with larger items like pasta or beans.
Stir batter. Stirring batter (and dry and wet ingredients along the way) is a fun way for your toddler to watch a simple baking project come together.
Filling muffin tins with batter. Your child has an even greater opportunity to participate when you let him fill the muffin tins after the batter is ready! Start by demonstrating how to fill a muffin cup and then hand over the spoon.
Trim herbs. If your recipe includes herbs like mint, parsley, cilantro, rosemary, or thyme, let your toddler pull the leaves from the stems for you while you work on other tasks.
Make a salad. Have your toddler tear lettuce leaves for a salad, add in the extra ingredients, and then toss everything together once it's time to eat.
Assemble simple meals or snacks. Sandwiches or snacks like ants on a log are a great place to start!
Set the table. This is a great way to involve your toddler in preparing for meal time and work on basic counting skills.
Unpack groceries. Your child will feel more involvement and ownership if they help you unpack the week's groceries.
Clear the table. Teach your toddlers that cleaning is everyone's responsibility by having them bring their cups and plates to the sink after each meal.
We hope this post inspires you to be creative in the kitchen with your young children. Do you have any favorite cooking activities to share? Let us know in the comments section below.
Further reading:
Snow Day the OT Way: 3 Fun Indoor Activities
Photo by Brooke Lark on Unsplash
Author
Sunny Days
Sunny Days is one of the nation's leading early intervention and autism services providers, serving children with developmental needs in New York, Oklahoma, California, New Jersey, Pennsylvania ,and Delaware. Founded in 1994, it currently has over 2,000 active practitioners. In the past two years, Sunny Days has provided well in excess of 1,000,000 individual sessions. Sunny Days was founded by two healthcare professionals — Joyce Salzberg, LCSW and Donna Maher, RN — whose passion for quality healthcare is core to its mission.
Call Today
1-866-557-8669
Office Hours
Mon-Fri 8:30 am - 7:30 pm
Sat-Sun 8:30 am - 3:00 pm
Contact Form